Legal3D provides medical-grade 3D virtual and 3D printed anatomical models for use as exhibits in personal injury litigation or at trial. 
Your success is our success, and that's why each medical-grade exhibit is carefully created by the medical visualization experts at Axial3D.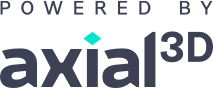 The leader in medical-grade 3D anatomical modeling. Axial3D has multiple printing hubs across the USA meaning you can get your virtual model within 24 hours, or a printed model shipped in as little as 48 hours. Fast turnarounds mean more planning time with your exhibits before your case is heard.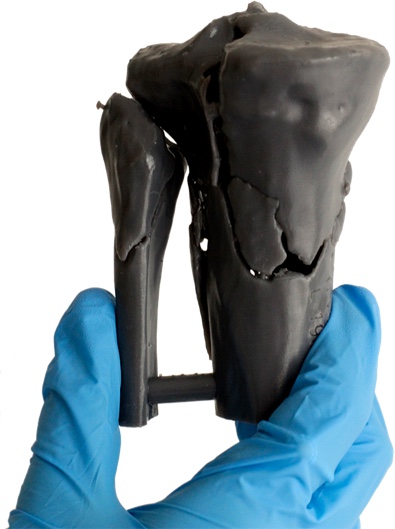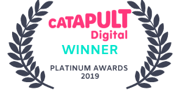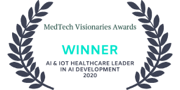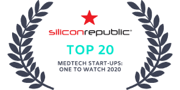 Why use Legal3D's Client-specific 3D exhibits for personal injury cases?

Lightning fast turnaround time
Get your virtual 3D exhibit in just a few hours from upload, while a physical 3D exhibit can be created and shipped to your desk within 48 hours.

High quality evidence
Legal3D exhibits replicate actual anatomy built straight from your Client's own medical scans as opposed to an illustration or animation and are subject to the same rigorous quality checks used for surgical-grade 3D models.

First-rate customer service
One of Legal3D's team of medical visualization experts will be your dedicated success manager, and work with you to ensure the perfect 3D exhibit each time.

Small investment. Big returns.
Legal3D's competitive prices are not only budget friendly, but provide incredible depth and detail that can increase a settlement offer for your Client by tens of thousands of dollars – or more.

Courtroom visuals have evolved
Elevate your client's patient images with an accurate 3D printed medical-grade exhibit of their injured anatomy.
Next generation vs traditional exhibits
A 3DV is supplied with 3DP orders
2D Images
Medical Illustration
Accurate
Lifelike replica of the client's anatomy, a medical-grade visualisation designed to be understood by doctors and non-medical professionals alike
Cost Effective
The low costs of our virtual and printed exhibits mean you can use them on every case. Discount on your first physical (3DP) model. Free shipping across the USA and worldwide.
Fast
Quite like the virtual exhibits, our physical models are also very quick as a result of the technology that we use. This means we can get this physical 3D exhibit out to you in 48 hours, making it a lot quicker than a medical illustrator.
Extremely fast
If you are on a certain time scale and you do not have the time to wait for a physical 3D exhibit then this is the one for you as you can get it in less than 24 hours.
Implicit
Traditional illustrations may convey what is required, but with 3DV and 3DP Jurors can navigate and examine the exhibit, which helps them to understand the problem and build empathy with your Client
Easily replicated
A cost-effective way to produce repeatable models
Make an impact
Effective visuals resonate in the juror's minds long after its presentation during the trial or mediation
Virtual
Easily shared digitally for immediate access to a navigatable model
Tactile, physical model of the client's injury
This makes the case more personal as the lawyer and the jurors are actually able to see the exact injury to the plaintiff, instead of just seeing a 2D MRI or CT scan.
Next generation vs traditional exhibits
2D
Images

Medical
Illustration

Accurate

Cost Effective

Fast

Extremely fast

Implicit

Easily replicated

Make an impact

Virtual

Tactile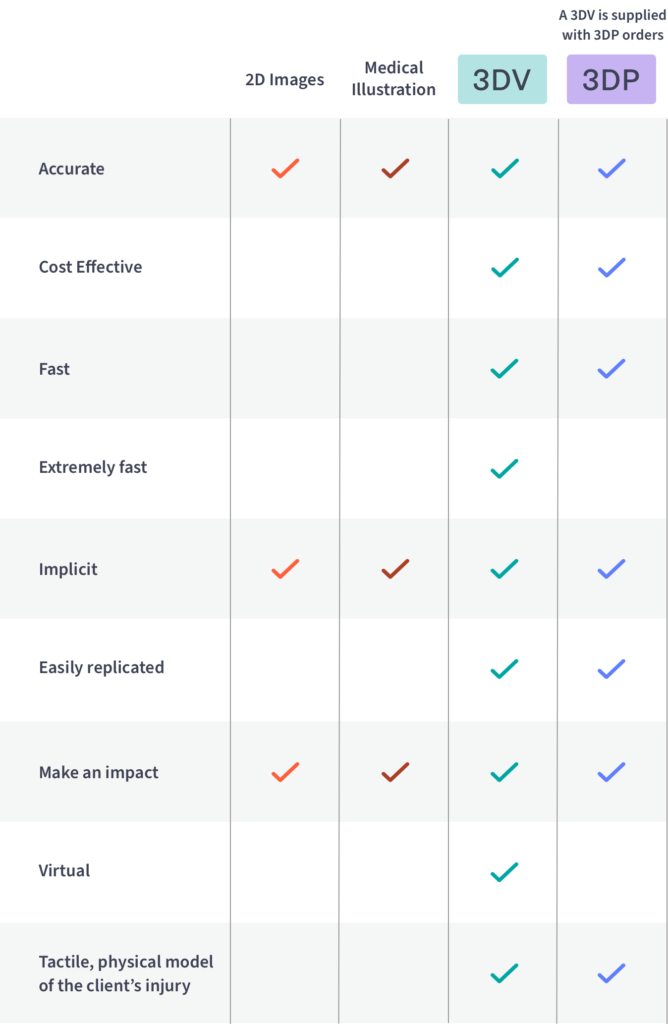 How to order
Upload your client scans securely and anonymously (CT/MRI scan DICOM files)

Your dedicated Success Manager discusses model options and puts your exhibit into production

Your model is checked and sent via email link (3DV), or by courier (3DP)